Claimed score: CQ WW CW 2009
                    CQ Worldwide DX Contest, CW

Call: EY8MM
Operator(s): EY8MM
Station: EY8MM

Class: SOSB/160 HP
QTH: MM48JN
Operating Time (hrs): 26h 45m  

Summary:
 Band  QSOs  Zones  Countries
------------------------------
  160: 1192    27       89
   80:    0     0        0
   40:    0     0        0
   20:    0     0        0
   15:    0     0        0
   10:    0     0        0
------------------------------
Total: 1192    27       89  Total Score = 352,292

Club: ATCC

Comments:

Very good time with all folks on the radio! 

I didn't plan full participation due to work arrangements. But last 
minute my partners changed their flights and let me play this game
full time.

We were very unfortunate that band condx was bad during the contest. 
It was constant struggle to pull out weak signal. And to be honest 
most of the signals were weak. I think that is why I was getting EU 
station calling CQ on the top of my head all the time.

Most memorable moments:
-Being called by KV4FZ, 6Y1V (New one), 9L5A, SU9HP, 3V3S, YI9TM etc
-SS and SR qso with Bob N7UA. We stated both "QSO before" for second
one but it was really fun to have it in log.
-Zone 2 on the first minute in the contest
-Signal to remember: 8P5A from Caribbean
-PJ2T was hard to work but was very happy to find him
-Missed mults: T7, 5N, PY, EA9 and few others.
-Two mults last minutes of the contest ZC4T and 4L0A.
-Never heard HC8. Was hoping for new one.


Result is less than planned and less than in 2007. I made a lot of
improvements on the station but condx was not cooperative at all.

I made some qsy for other bands but this qso's are not listed. 
Surely will be as check log.

Will put details on my web after a little rest.

73 to all and it was my EVENT of the year!



    
CONFIRMED
Total: 1187    26       88  Total Score = 341,202
 
World # 1
Callsign: EY8MM
Category: SINGLE-OP 160M HIGH CW
Contest: CQ-WW-CW
Operators: EY8MM

-------------- Q S O   R a t e   S u m m a r y --------------
Hour     160     80     40     20     15     10  Total    Pct
-------------------------------------------------------------
0000     115      0      0      0      0      0    115    9.4
0100      90      0      0      0      0      0     90    7.4
0200      30      0      0      0      0      0     30    2.5
0300       0      0      0      0      0      0      0    0.0
0400       0      0      0      0      0      0      0    0.0
0500       0      0      0      0      0      0      0    0.0
0600       0      0      0      0      0      0      0    0.0
0700       0      0      0      0      0      0      0    0.0
0800       0      0      0      0      0      0      0    0.0
0900       0      0      0      0      0      0      0    0.0
1000       0      0      0      0      0      0      0    0.0
1100       4      0      0      0      0      0      4    0.3
1200      15      0      0      0      0      0     15    1.2
1300      32      0      0      0      0      0     32    2.6
1400      29      0      0      0      0      0     29    2.4
1500      50      0      0      0      0      0     50    4.1
1600      68      0      0      0      0      0     68    5.6
1700      73      0      0      0      0      0     73    6.0
1800      48      0      0      0      0      0     48    3.9
1900      61      0      0      0      0      0     61    5.0
2000      63      0      0      0      0      0     63    5.2
2100      84      0      0      0      0      0     84    6.9
2200      35      0      0      0      0      0     35    2.9
2300      42      0      0      0      0      0     42    3.4
0000      39      0      0      0      0      0     39    3.2
0100      25      0      0      0      0      0     25    2.0
0200       8      0      0      0      0      0      8    0.7
0300       0      0      0      0      0      0      0    0.0
0400       0      0      0      0      0      0      0    0.0
0500       0      0      0      0      0      0      0    0.0
0600       0      0      0      0      0      0      0    0.0
0700       0      0      0      0      0      0      0    0.0
0800       0      0      0      0      0      0      0    0.0
0900       0      0      0      0      0      0      0    0.0
1000       0      0      0      0      0      0      0    0.0
1100       1      0      0      0      0      0      1    0.1
1200       6      0      0      0      0      0      6    0.5
1300       1      0      0      0      0      0      1    0.1
1400      16      0      0      0      0      0     16    1.3
1500      25      0      0      0      0      0     25    2.0
1600      11      0      0      0      0      0     11    0.9
1700      53      0      0      0      0      0     53    4.3
1800      45      0      0      0      0      0     45    3.7
1900      35      0      0      0      0      0     35    2.9
2000      39      0      0      0      0      0     39    3.2
2100      28      0      0      0      0      0     28    2.3
2200      16      0      0      0      0      0     16    1.3
2300       5      0      0      0      0      0      5    0.4
------------------------------------------------------
Total   1192      0      0      0      0      0   1192

Gross QSO's=1223        Dupes=31        Net QSO's=1192

Unique callsigns worked = 1192

The best 60 minute rate was 115/hour from 0000 to 0059
The best 30 minute rate was 126/hour from 0026 to 0055
The best 10 minute rate was 156/hour from 0026 to 0035

The best 1 minute rates were:
 4 QSO's/minute    4 times.
 3 QSO's/minute   53 times.
 2 QSO's/minute  220 times.
 1 QSO's/minute  577 times.

There were 0 bandchanges and 0 probable 2nd radio QSO's.

Number of letters in callsigns
Letters  # worked
-----------------
   3         8
   4       213
   5       548
   6       419
   7         3
   8         1

------------ M u l t i p l i e r   S u m m a r y ------------
Mult     160     80     40     20     15     10  Total    Pct
-------------------------------------------------------------
14       308      0      0      0      0      0    308   25.2
15       289      0      0      0      0      0    289   23.6
16       272      0      0      0      0      0    272   22.2
25       151      0      0      0      0      0    151   12.3
17        57      0      0      0      0      0     57    4.7
20        36      0      0      0      0      0     36    2.9
18        22      0      0      0      0      0     22    1.8
19         8      0      0      0      0      0      8    0.7
5          7      0      0      0      0      0      7    0.6
21         6      0      0      0      0      0      6    0.5
24         6      0      0      0      0      0      6    0.5
33         5      0      0      0      0      0      5    0.4
28         3      0      0      0      0      0      3    0.2
29         3      0      0      0      0      0      3    0.2
8          3      0      0      0      0      0      3    0.2
31         2      0      0      0      0      0      2    0.2
27         2      0      0      0      0      0      2    0.2
22         2      0      0      0      0      0      2    0.2
23         2      0      0      0      0      0      2    0.2
2          1      0      0      0      0      0      1    0.1
40         1      0      0      0      0      0      1    0.1
26         1      0      0      0      0      0      1    0.1
4          1      0      0      0      0      0      1    0.1
3          1      0      0      0      0      0      1    0.1
35         1      0      0      0      0      0      1    0.1
34         1      0      0      0      0      0      1    0.1
9          1      0      0      0      0      0      1    0.1
------------------------------------------------------
Total   1192      0      0      0      0      0   1192

Multi-band QSO's
----------------
1 bands    1192
2 bands       0
3 bands       0
4 bands       0
5 bands       0
6 bands       0

----- S i n g l e   B a n d   Q S O ' s  -----
Band    160     80     40     20     15     10
----------------------------------------------
QSOs   1192      0      0      0      0      0


QSO/ZN+DX by hour and band

 Hour     160M     80M     40M     20M     15M     10M    Total     Cumm    OffTime

D1-0000Z 115/40   --+--   --+--   --+--   --+--   --+--  115/40    115/40  
D1-0100Z  90/8      -       -       -       -       -     90/8     205/48  
D1-0200Z  30/5      -       -       -       -       -     30/5     235/53     10
D1-0300Z    -       -       -       -       -       -      0/0     235/53     60
D1-0400Z    -       -       -       -       -       -      0/0     235/53     60
D1-0500Z    -       -       -       -       -       -      0/0     235/53     60
D1-0600Z    -       -       -       -       -       -      0/0     235/53     60
D1-0700Z    -       -       -       -       -       -      0/0     235/53     60
D1-0800Z  --+--   --+--   --+--   --+--   --+--   --+--    0/0     235/53     60
D1-0900Z    -       -       -       -       -       -      0/0     235/53     60
D1-1000Z    -       -       -       -       -       -      0/0     235/53     60
D1-1100Z   4/3      -       -       -       -       -      4/3     239/56     27
D1-1200Z  15/4      -       -       -       -       -     15/4     254/60  
D1-1300Z  32/2      -       -       -       -       -     32/2     286/62  
D1-1400Z  29/1      -       -       -       -       -     29/1     315/63  
D1-1500Z  50/1      -       -       -       -       -     50/1     365/64  
D1-1600Z  68/8    --+--   --+--   --+--   --+--   --+--   68/8     433/72  
D1-1700Z  73/3      -       -       -       -       -     73/3     506/75  
D1-1800Z  48/5      -       -       -       -       -     48/5     554/80  
D1-1900Z  61/2      -       -       -       -       -     61/2     615/82  
D1-2000Z  63/0      -       -       -       -       -     63/0     678/82  
D1-2100Z  84/4      -       -       -       -       -     84/4     762/86  
D1-2200Z  35/5      -       -       -       -       -     35/5     797/91  
D1-2300Z  42/1      -       -       -       -       -     42/1     839/92  
D2-0000Z  39/5    --+--   --+--   --+--   --+--   --+--   39/5     878/97  
D2-0100Z  25/4      -       -       -       -       -     25/4     903/101 
D2-0200Z   8/0      -       -       -       -       -      8/0     911/101    24
D2-0300Z    -       -       -       -       -       -      0/0     911/101    60
D2-0400Z    -       -       -       -       -       -      0/0     911/101    60
D2-0500Z    -       -       -       -       -       -      0/0     911/101    60
D2-0600Z    -       -       -       -       -       -      0/0     911/101    60
D2-0700Z    -       -       -       -       -       -      0/0     911/101    60
D2-0800Z  --+--   --+--   --+--   --+--   --+--   --+--    0/0     911/101    60
D2-0900Z    -       -       -       -       -       -      0/0     911/101    60
D2-1000Z    -       -       -       -       -       -      0/0     911/101    60
D2-1100Z   1/1      -       -       -       -       -      1/1     912/102    58
D2-1200Z   6/0      -       -       -       -       -      6/0     918/102 
D2-1300Z   1/1      -       -       -       -       -      1/1     919/103    56
D2-1400Z  16/1      -       -       -       -       -     16/1     935/104 
D2-1500Z  25/0      -       -       -       -       -     25/0     960/104 
D2-1600Z  11/0    --+--   --+--   --+--   --+--   --+--   11/0     971/104 
D2-1700Z  53/3      -       -       -       -       -     53/3    1024/107 
D2-1800Z  45/1      -       -       -       -       -     45/1    1069/108 
D2-1900Z  35/0      -       -       -       -       -     35/0    1104/108 
D2-2000Z  39/4      -       -       -       -       -     39/4    1143/112 
D2-2100Z  28/0      -       -       -       -       -     28/0    1171/112 
D2-2200Z  16/0      -       -       -       -       -     16/0    1187/112 
D2-2300Z   5/4      -       -       -       -       -      5/4    1192/116 

Total:  1192/116   0/0     0/0     0/0     0/0     0/0  


          160M    80M    40M    20M    15M    10M   Total      %

    NA      13      0      0      0      0      0      13     1.1
    AS     269      0      0      0      0      0     269    22.6
    EU     893      0      0      0      0      0     893    74.9
    OC       9      0      0      0      0      0       9     0.8
    AF       7      0      0      0      0      0       7     0.6
    SA       1      0      0      0      0      0       1     0.1



          160M    CQ/SEARCH COUNTRY

    3V       1    C
    4J       1    C
    4L       1    S
    4O       1    C
    4X       2    C
    5B       5    C
    6Y       1    C
    8P       1    S
    9A       6    C
    9K       1    C
    9L       1    C
   9M2       1    C
   9M6       1    C
    A6       1    C
    A7       1    C
    BY       5    C
    CN       1    S
    CT       1    C
   CT3       2    C
    CU       1    S
    DL     142    C
    E7       4    C
    EA       8    C
   EA6       1    C
   EA8       1    C
    EI       6    C
    ER       4    C
    ES       6    C
    EU      11    C
    EX       2    C
    EY       1    C
     F      23    C
     G      36    C
    GD       1    C
    GI       1    C
    GJ       1    C
    GM       3    C
    GW       1    C
    HA      21    C
    HB       8    C
    HS       1    S
     I      30    C
    IS       2    C
   IT9       4    C
    JA     151    C
    JT       1    S
     K       8    C
   KH2       2    C
   KH6       2    C
   KP2       1    C
    LA       9    C
    LX       1    S
    LY      18    C
    LZ       7    C
    OE      10    C
    OH      37    C
   OH0       2    C
    OK      53    C
    OM       7    C
    ON      11    C
    OY       1    C
    OZ      11    C
    PA      16    C
   PJ2       1    S
    S5      23    C
    SM      26    C
    SP      40    C
    SU       1    C
    SV       3    C
    TF       1    C
    TK       1    C
    UA     164    C
   UA2       2    C
   UA9      83    C
    UK       1    C
    UN       6    C
    UR      88    C
    VE       2    C
    VK       2    C
  VK9X       1    S
    VR       1    S
    VU       2    C
    YB       1    C
    YI       1    C
    YL       9    C
    YO      18    C
    YU      12    C
    Z3       1    C
   ZC4       1    S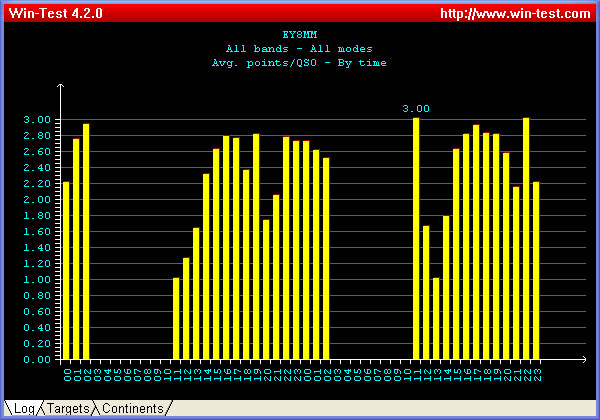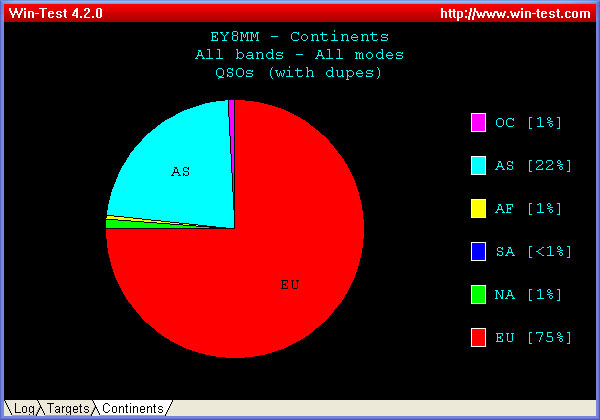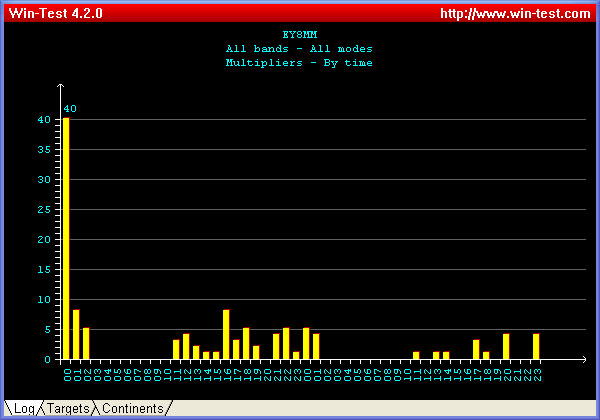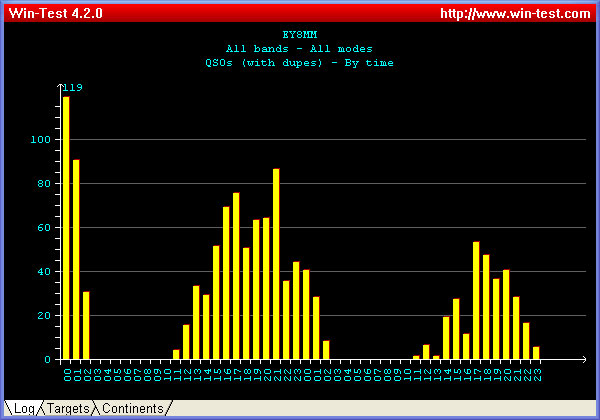 FINAL UBN
Contest:  CQCW09
Call:     EY8MM
Category: Single Op 1.8 MHz High Power

************************** Summary ***************************

    1192 Claimed QSO before checking (does not include duplicates)
    1187 Final   QSO after  checking reductions

    3037 Claimed QSO points
    2993 Final   QSO points

      89 Claimed countries
      88 Final   countries

      27 Claimed zones
      26 Final   zones

     116 Claimed mults
     114 Final   mults

  352292 Claimed score
  341202 Final   score
   -3.1% Score reduction

      31 (2.5%) duplicates
       0 (0.0%) calls copied incorrectly
       0 (0.0%) band change violations
       5 (0.4%) not in log
      12 (1.0%) calls unique to this log only (not removed)

********************** Results By Band ***********************

               Band   QSO  QPts  Zone Cty Mult

   Claimed     160M  1192  3037    27  89  116
   Final       160M  1187  2993    26  88  114

  
   Claimed      All  1192  3037    27  89  116  Score   352292
   Final        All  1187  2993    26  88  114  Score   341202

************************* Not In Log *************************

 1826 CW 2009-11-28 0057 EY8MM           17 UA0AZ           18
 1839 CW 2009-11-28 1928 EY8MM           17 OE2GEN          15
 1814 CW 2009-11-29 2023 EY8MM           17 JA2KVD          25
 1835 CW 2009-11-29 2207 EY8MM           17 OT5P            14
 1820 CW 2009-11-29 2332 EY8MM           17 PJ2T             9

************* Unique Calls Worked (not removed) **************

 1820 CW 2009-11-28 1656 EY8MM           17 DJ8NK           14
 1839 CW 2009-11-28 1911 EY8MM           17 DD1LB           14
 1815 CW 2009-11-28 2109 EY8MM           17 JA8EJJ          25
 1815 CW 2009-11-28 2145 EY8MM           17 IV3VBB          15
 1836 CW 2009-11-28 2322 EY8MM           17 DL8KCL          14
 1824 CW 2009-11-29 1255 EY8MM           17 RA4CSX          16
 1823 CW 2009-11-29 1512 EY8MM           17 SP1KQR          15
 1823 CW 2009-11-29 1515 EY8MM           17 SM3FVW          14
 1817 CW 2009-11-29 1702 EY8MM           17 OH7OK           15
 1817 CW 2009-11-29 1843 EY8MM           17 OH7WP           15
 1817 CW 2009-11-29 1920 EY8MM           17 RA4CTR          16
 1814 CW 2009-11-29 2117 EY8MM           17 OM3CAO          15

********************** Lost Multipliers **********************

 1820 CW 2009-11-29 2332 EY8MM           17 PJ2T             9 Not in log

*******************  Multipliers by band  ********************

160M multiplier total 114

3V    4J    4L    4O    4X    5B    6Y    8P    9A    9K
9L    9M2   9M6   A6    A7    BY    CN    CT    CT3   CU
DL    E7    EA    EA6   EA8   EI    ER    ES    EU    EX
EY    F     G     GD    GI    GJ    GM    GW    HA    HB
HS    I     IS    IT9   JA    JT    K     KH2   KH6   KP2
LA    LX    LY    LZ    OE    OH    OH0   OK    OM    ON
OY    OZ    PA    S5    SM    SP    SU    SV    TF    TK
UA    UA2   UA9   UK    UN    UR    VE    VK    VK9X  VR
VU    YB    YI    YL    YO    YU    Z3    ZC4

  2  3  4  5  8 14 15 16 17 18 19 20 21 22 23 24 25 26 27 28
 29 31 33 34 35 40

************* Stations Copying EY8MM Incorrectly *************

 1800 CW 2009-11-29 1817 LY2BKT          15 EY7MM           17
 1800 CW 2009-11-29 2012 9L5A            35 EY5MM           17